Special Exhibits from UNICEF Archives
First UNICEF Greeting Card
The first UNICEF greeting card appeared in 1949, when UNICEF and the UN were still out at Lake Success. It was drawn by a Czech schoolgirl, Jitka Samkova, to express her appreciation for the food, clothing and codliver oil UNICEF had sent the children of her village in the grim winter of 1946-7. Jitka's card was privately printed by the UNICEF staff at Lake Success for their own use and subsequently launched a world-wide fund raising activity for UNICEF: hundreds of millions of cards have since been mailed providing about one third of UNICEF's annual income.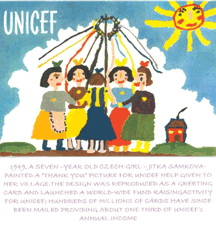 In 1949, a seven-year old Czech girl, Jitka Samkova, painted a "Thank You" picture for UNICEF help given to her village.
The views expressed or information presented do NOT
necessarily represent the official position of any person
or organization.
Please send any comments, questions or suggestions about these pages to
uyoung@unicef.org,